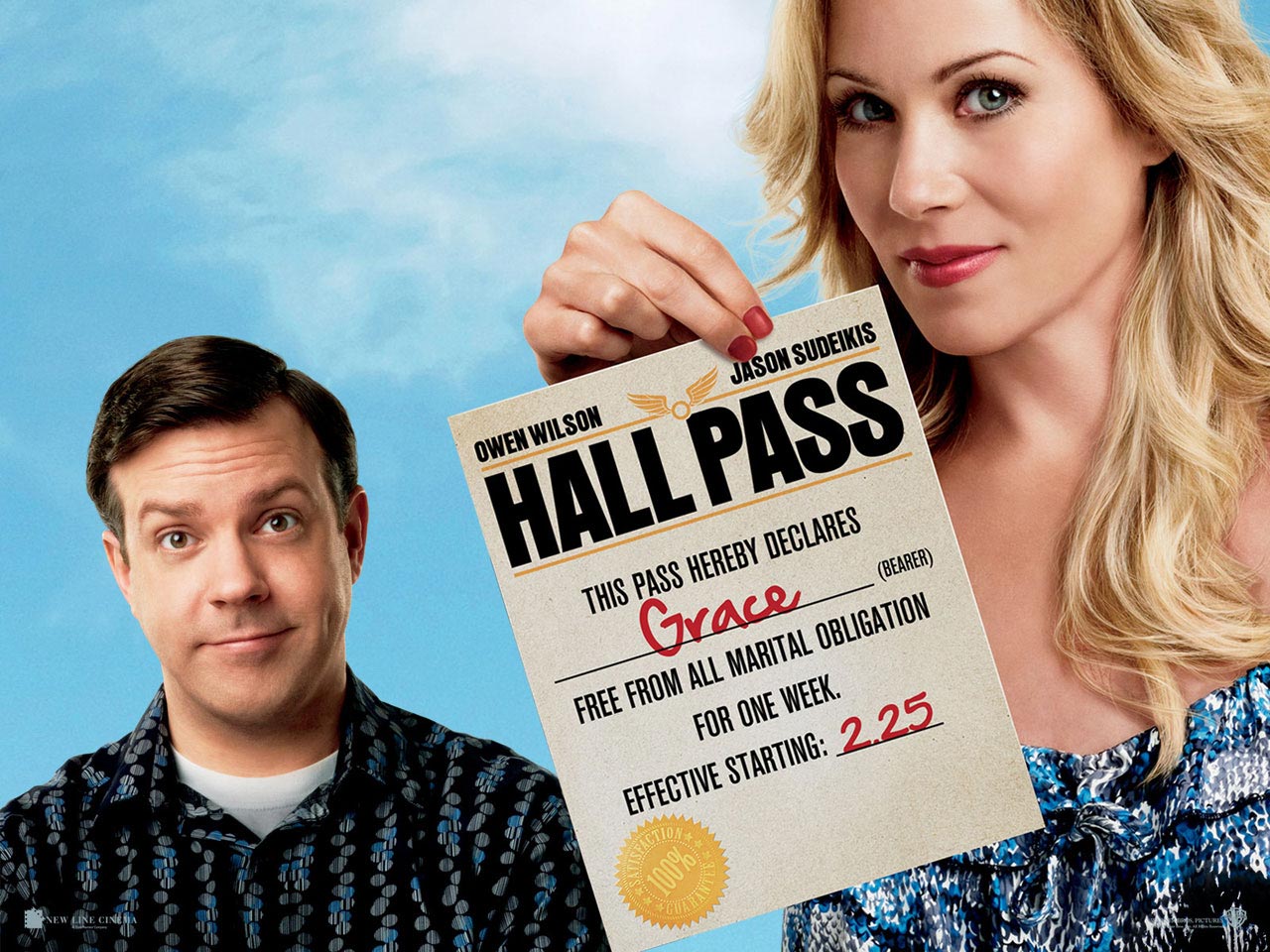 The sex comedy "Hall Pass" revolved around the husband's fantasy of having a week without marital obligations.
I have made a few posts about my desire to try cuckolding. That is, I would like to watch Suzy play with another male sexually. This is not something that should be taken lightly, and I realize that once an extramarital partner makes an appearance into our bedchamber, it can't really be undone. However, this is a very strong fantasy of mine.
I recently watched the movie "Hall Pass". The premise is two 40something married men get their wives' permission for one week to play the field, or "take a break" from their marriage. They would then come back happily to their wives and then married life resumes.
The dudes no longer "have it". It is one failure after another, and it is comically embarrassing how inept they are with the ladies. When the rubber hits the road, one of the
wives
actually does have sex with another man. One of the husbands finally gets the chance to do it with a young Australian barista, but declines.
It is a highly sexual movie. There are some good bits of crude humor.
Suzy has a "hall pass". She knows that if she had another sex partner, I would be very turned on. The thing is, I really want to watch. It seems like a threesome, a male-female-male threesome is a possibility.
Three times, she has posted an ad on Craigslist for a possible male "playmate". What seems to turn us both on is a "boy toy", someone significantly younger than me that has no strings attached sex play. I can't help but feel that the numerous replies Suzy has received from her posts have tickled her ego... a lot. We came close to meeting a guy for drinks, to see if there was some chemistry. She now has a "suitor" that she seems to like, and it is possible that we might meet him to "kick the tires".
The reality is that this has got me very excited. I don't think Suzy understand the extent of my excitement, particularly when I am being denied orgasm.
Part of the appeal to me is the "double standard". Suzy would literally cut my balls off if I had any sexual contact with another woman. She has been very clear about that, since before we were married. I think that she moves that standard to me. I don't think I am a jealous person. And it's not cheating if I am there watching, or if I know/hear about it. Suzy has a hall pass. I just don't want her to lie to me and do it behind my back.
Suzy has a rare business trip coming up, in a few weeks. She teased me that she would meet her boy toy at her hotel. I was rather turned on by this tease. The reality is, she really could make arrangements to meet him there. And I really would be turned on if she did. I have been thinking about this, maybe more than I should. I almost want her to come back and tell me she "met someone" and "had a very satisfying trip". I would of course want to know the details. I would prefer to watch the action, but with our family, things can't always happen that way. I have fantasized about slipping some condoms in her luggage and telling her to "play safe'.
I am sure as the date of this trip comes closer, I will fantasize more.
Will she take advantage of the hall pass? On her trip, or the boy toy she has been corresponding with? I don't know. But, she has a hall pass. I just want her to tell me the juicy details. Even if she chooses not to get physical, it may be fun to role play, acting as if she did to judge my reactions.
* * * * *
I wrote this a few weeks ago, when I found out about her business trip. Friday night I had a dream that Suzy locked me in chastity during her trip. It's been a while since I've been locked, but one of her prior criteria for using the device was when we are apart, which we will be for several days when she is gone. I brought up my dream and Suzy seemed intrigued by the idea of a lockup. Then, my mind started wandering some, and I thought in addition to packing her condoms "just in case", it would be hot for her to take a vibrator with her. After all, some of the hotels have very weak showers, and when a girl needs an orgasm, she needs an orgasm. Her having such sexual freedom (to play with a boy toy, or masturbate) and my possible enforced chastity is a double standard that really turns me on.
Suzy denied me sexual relief two straight sessions. I am very horny, and thinking about this scenario more and more.