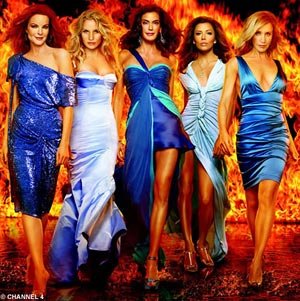 Suzy and I were on fire during our long play session
Sunday's session had some promising beginnings. The kids were quite tired from a very busy weekend, so they were inclined to get to sleep early. We were behind in our
Desperate Housewives
episodes and Suzy was wanting to get caught up. She indicated she wanted her back rubbed and then told me to rub her feet. Instead of telling me to switch feet, she simply positioned her new foot towards me. I know this may not seem like much, but I thought it was sexy. I like it when she knows what she wants and directs me to it.
After the show was over, she mentioned again that it was going to be a bummer once the series is over. We have one more show to watch (the one that aired last night) and then the finale. The plot is getting pretty thick with sexuality, which I think turns us both on. In addition, at dinner, we were close to a young waiter that Suzy finds quite hot. She was visibly distracted by his presence. I don't know what effect that had on her libido, but it couldn't have hurt.
After the show, I showered while Suzy did some computer work. She came back in, locked the door herself (!) and then we began to kiss and touch each other. She took off her shirt, which facilitated my ability to stimulate her back, breasts, and arms. We were both aroused.
Suzy stimulated my cock and groped my balls. It felt so great to be vulnerable before her. She said that it was too bad that she was still on her period, that she would like me to penetrate her. She joked that I was hard but had no place to come. I continued to stimulate her back and occasionally her breasts while she groped my body. She played with my nipples manually and then sucked on them, simultaneously playing with my cock. That was intense and erotic.

She continued to raise my arousal level and then began smacking my balls. It had been a long time since she administered pain, and it felt very intense for me. She edged me (brought me to the brink of orgasm, then backed off) several times. She then began to stimulate my perineum area, which she also hadn't done for a while. She also teased my ass. That really felt great, and I was glad I showered. She went through a cycle of jerking my cock, stimulating my balls, and then my perineum, and back to my cock. She was watching my reactions like a hawk, and after the session was over, I confirmed that she was monitoring my excitement level so that she knew when to back off. What a woman! What a dominant woman!
This was a long session. My cock was on the verge of exploding for 15-20 minutes. After about 30 minutes (her estimate... I had no concept of time at this point!), she abruptly said, "OK, that's all I'm doing tonight", or something to that effect. It was definitive, clear, and dominant. I wasn't going to come tonight. I got on top of her, and we began kissing passionately. She told me to suck her tits, and I complied readily. After a couple of minutes of alternating between her wondrous breasts, she stopped me, moved my face up for some more kissing and told me directly that it was time for her orgasm.
Suzy stroked my cock a lot... but backed off when I was approaching orgasm.
I got out the Hitachi Magic Wand, and positioned the vibrator while she squeezed my still erect cock. She came very hard - I thought even harder than Friday night, but she denied that. She was loud and unrestrained in her climax. I kissed her some more after she came, and continued to stimulate her chest and back during her orgasm afterglow.

We fell asleep together, me naked and her topless. We were both sexually satisfied with her tease and denial of me, and her spectacular orgasm.
* * * * *
What made this a great session from my perspective was that it was a "main event" for our day. It is our circumstance that we are often very tired and sex play is at the very end of the day, when we are both exhausted. I had a late afternoon coffee (I haven't been sleeping well lately) specifically to make sure I had energy for our play date. I would say we often start after 10pm, but we were probably done by that time. And it was a long session! I wonder what we are going to be like when we have an empty nest - probably like a bunch of horny newlyweds!!! I can't wait!
There was a lot of passion. We kissed a lot, and were very physical.
I kept my mouth shut and didn't say anything stupid. I wanted to give her positive feedback that I was enjoying the stimulation, so I moaned and told her how turned on I was. But I didn't make any suggestions and I didn't ask her any questions. She was working her cock, and she could do what she liked with it.