This is "Porn for Women"
When a local bookstore was about to go belly up, I purchased a humorous book entitled "Porn for Women". It basically has somewhat attractive (not fat and hairy, anyway) men doing or saying things that women would find, well, nice for the significant others to do. Such as cleaning, waking up to take care of the baby, happily going shopping for shoes, etc. Saying and doing just what a women would want. Suzy got a kick out of it.
I was thinking about that, in light of a porn DVD that we bought and watched together a long time ago. It is "Nina Hartley's Guide to Sensual Domination: How to Dominate a Man". I was thinking about that movie because I have wanted to do more reviews of sex related products. There are two sex scenes, with some commentary before each one (you'll have to bear with me, I am doing this from memory). The first involves Nina Hartley and a younger male. She asks him what his limits are, and he tells her he doesn't want his ass played with. How lame! I believe she gives some instruction to the viewer and asks for the actor's feedback as she does various (for our tastes now, fairly tame) things to him. The other scene was a married couple (bonus!) and I recall it being fairly erotic. I can't remember the exact details, but I think she ties him up or handcuffs him. The sex is definitely focused on female pleasure. It is a more natural scene in that they don't really stop and chat, it is just a woman that is very much in charge of the sex. Nothing that I would consider kinky now.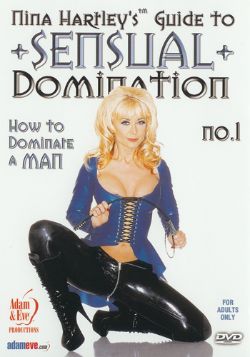 This was a "starter" female domination tool;
Suzy could really do the instruction on this now(!)
I don't recall Suzy's response to this. She generally doesn't like porn. I guess that's the main thing I am probing in this post. Why? I suppose that most porn (the 'instructional' one discussed above being an exception) is geared toward men. It's kind of the opposite of our sex play: the woman in porn probably fakes an orgasm and the male ejaculates every time. I also don't think that Suzy likes me looking at other naked women. This is one of those "double standard" parts of our FLR. I am turned on by her looking at other men, telling me that she likes his ______; but if a Victoria's Secret commercial comes on, you better believe I am expected to flip it immediately. This could be a fatal flaw in us watching porn. Also, I think Suzy is offended by lesbian porn. She asked me about it a while ago, and
I replied that I didn't enjoy it either
- that two men satisfying a woman is much more erotic to me.
Never seen a porn like this; perhaps Suzy would like it.
She might like his big...personality.
But I recall going to the local adult toy shop and there are some "female friendly" porn DVD's right by the cashier. I wonder if she would be interested in that.
Stay with me a second. Pair the above discussion with Suzy's question: what are we going to do when Desperate Housewives is over? This is really the only show we watch together, and I am usually rubbing her feet and we usually 'get intimate' afterwords.
Taking this in, I simply googled "porn for women" and got two quick hits that seemed like they would be up her alley. The trailers for
one series
are on
YouTube
(no nudity in the trailers). The
other one
I found because there was
an article of the director being a woman
.
Both of these seemed like something that she might enjoy. I say that because Suzy watches "chick TV" shows like Private Practice and Grey's Anatomy in the morning via the recordings. I don't mind watching a romcom every now and then but watching these shows is not how I want to spend my time. I was thinking about this, what if they had some sort of female oriented show but had actual sex in it (I believe that is a frequent topic on her shows anyway - why not just show the doctors boinking for entertainment value). At any rate, I thought I'd ask.
* * * * *
Perhaps Suzy will look at the trailers and surprise me with a "hey slave, let's watch this porn together tonight". That would be porn for me.