Let me set the scene for our play session last night. We had some heavy duty verbal teasing about the cuckolding fantasy most of the weekend. I had been locked in my new chastity device, the Birdlocked, for 48 hours but we had not had a lot of physical teasing with me being locked. I had not been getting a lot of sleep due to this excitement. We had exchanged a lot of sext messages, so I think we were both very worked up going into our Sunday night massage/Desperate Housewives festivities. She told me that she was wearing her "access denied" thong in the morning (btw, it is one sexy thong, very much complimenting the awesomeness of her booty).
As I massaged my bride, I got some unmistakable appreciation for the breast stimulation I was providing; she was almost shaking whenever I navigated the circumference of her lusciousness. My wife has a large bust and I love her breasts. But they are very mysterious in terms of when they like to be played with; it most likely has to do with her cycle, and I certainly cannot predict it. There is a "suck my nipples and squeeze them hard" window and there is a "leave them alone" window. Fortunately, last night was the former.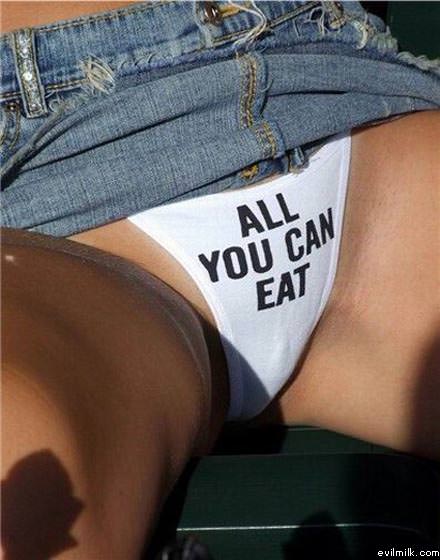 Last night did not involve cunnilingus, as suggested here;
but it was an all you can eat night for breast play!
After the show was over, we began kissing very passionately. There was an urgency and a primacy to our lip-locking. I was on top of her and "thrusting" with my locked cock. She then lifted up her shirt and told me to get to work on her nipples. Our breast play lasted for a long time. We alternated between suckling each boob, my hands usually on both of them, and then returning to French kissing. There was a lot of tongue work going on. This passion lasted for some time. I was turned on by her being in charge not only of my cock but of the progress of the playtime. I really liked how she would on occasion give me direction that I needed to suck harder.
Last night, it was all about her breasts!
My Queen then moved to being on top. How I love this! For a sub, her controlling the action by being on top is very exciting. I love how she lowers the breast she wants to be attended to into my eager mouth. That went on for a while, with added kissing breaks. I did not realize this at the time, but she was wearing the key to my chastity device on a necklace, which I find to be very hot. She started "going down" my body, spending a generous amount of time licking my nipples. Last night was different in that we don't usually spend a lot of time on my nipples. She stimulated them a lot, which I found to be very arousing. I am glad I remove my chest hair ~ maybe this is the dividend for that? Ha! She moved down, stimulating my body until she got to my genitals, and then very erotically unlocked me from the necklace. I took off the device and she then moved back to kissing and breast play and male nipple play. It was a "breastfest".
With a healthy bit of attention to my nipples.
She asked me to take off her "access denied" thong because she said that the access to her pussy was no longer being denied. I really love this kind of dirty talking. It was just so hot. Not only did we have a tremendous passionate session, but she was clearly in charge of the session. I loved it.
She lowered her pussy onto my erect cock. It felt great to be inside her warm awesomeness. She began the initial rocking to get everything all lubed up and then - BANG - I had reached the point of no return. I thrust in her to complete my climax. There are two ways to interpret this episode of premature ejaculation:
I was embarrassed. I really can't remember the last time that I had climaxed before Suzy. It doesn't seem very natural for that to occur. And really, there was not much penetration involved. My endurance was just terrible. But to put it into some perspective, I had been denied sex for a week, in a physical chastity device for two full days, a lot of hard core teasing and sexting, and we had an extremely exciting amount of foreplay. But, come on, dude. Wife on top sex is what you live for!
Suzy was tickled at this event. This was the first time I had ever come from wife on top sex. She felt powerful. She forced me to come in a position I don't under normal circumstances come from. She was turned on that she had turned me on so much that I was jelly in her hands. I think she was very proud of her sexual prowess.
Suzy was "on top" for much of the action. I revel in her power over me, which
now includes the ability to make me come from this position.
There was some laughter and banter about this unexpected event. Since she was still on top, her "creampie" or my semen inside her pussy starting oozing out. It was messy, just as sex is supposed to be ;-) She said that she needed an orgasm now, and that she wanted me to finger her. I must say that I had never fingered her pussy with so much wetness. Our love juices combined for awesome warm lube for me to finger her pussy with our Hitachi working her clitoris. She came very hard.
* * * * *
She teased me about working me up for "round 2" but unfortunately that didn't happen. I was so tired from sleep deprivation that I just crashed. I don't really remember much about how I feel asleep, but it was the best sleep I had had in a long while. What a great night. We both had a lot of fun. She reiterated something that I had said in an email: "isn't sex fun?". Yes, it is! I wonder what she has in store for this week. She said her desire for intensive breast stimulation coincides with the nearness of her period. Will she want to take this time to "train" me to have better stamina? We shall see!