My Suzy is going on an out of state trip to celebrate her friend's 40th Bday. The women that are going with her are fairly "wild": outgoing, drinkers, basically a partier crowd. They went on a similar trip to Vegas last year. This trip had been planned for over a year and we had discussed that I would be locked in my CB-6000 male chastity belt during the duration of the trip.
I will give a quick review of where we stand with the chastity device. I bought it without discussing it with her a couple of years ago. We have played with it on and off. When I introduced the cage to her, she was disappointed that I hadn't discussed it with her first, but intrigued. I attempted to lock the device up in her presence, so she could see how it worked. I couldn't get it on because I too erect. I even tried to use ice to calm things down and that didn't work. I finally went in and literally took a cold shower and put it on alone. The longest I've been "locked up" is 4 days, and we've done that a few times ~ kind of like long weekends of chastity. We don't play with the device very often, especially lately. Suzy prefers this for three reasons: after a few days of lockup, when I am uncaged, I don't get hard quickly enough for her; she enjoys my erections against her, especially when she denies me and she wants me to cuddle her and feel my excitement against her; and she likes that the "honor system" requires more self-discipline on my part.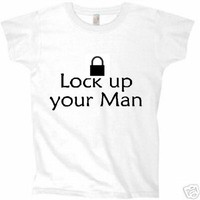 Suzy followed this advice!

While I enjoy playing with the device, I don't want to be in long term lockup. The "thrill" I get out of chastity is the physical nature of being unable to ejaculate and the control that Suzy has over my erections. I liken my affinity for chastity to my enjoyment of being physically restrained. The feeling of "straining" to become erect while being unable to do so is a submissive thrill for me. I also love the teasing and symbolism of Suzy with the key. Sometimes she wears it around her neck (hot!) but she usually has it within her bra. I love the way she teases me about this control.

Suzy is my keyholder this weekend.
Teasing with the key is really exciting to me.
 We had been sexting about the circumstances of my locking up. She said that I was to lock myself up last night in her presence (yikes!) and if I couldn't get the device on, I would have to be on the honor system for her trip. She then said she was going to make things "hard" for me, and she had a plan. We had finally had some adult time and I laid out the CB-6000. She came out in her sexy little thing and stroked me till I was fully erect (I was completely naked, as I usually am when we play). She then lay on the bed and got out her Hitachi Magic Wand and taunted me that it was going to be hard to get in the device while she was climaxing. Indeed it was. I had strategically shaved the night before to minimize the hair snagging - good move, as it made it a lot easier to put the ring around my cock and balls. Suzy came right after this step, and I was rock hard. I lubed my erection up with olive oil (I couldn't find my baby oil, and I have learned the hard way that you must have some lube!) and forced the cage portion onto my erection. I basically just crammed it in. I had a hard time actually getting the padlock on and then I told Suzy that if she wanted her submissive husband to be locked in chastity, that she should engage the lock. Click!
* * * * *
Hoping that Suzy has some good, clean fun!
We passionately kissed and tried to get some sleep. Suzy had to be driven very early this morning for her flight, so I haven't had much sleep. She did tease me a bit about my predicament this morning. I don't know what her plans are for the key. I suspect that she will give me a lot of teasing sext messages throughout this weekend. I hope she has a "wild" time with her partier friends. My imagination is going to go wild. Will thy go to a male strip club? Dancing? Will she get hit on? This is really hitting my submissive buttons!